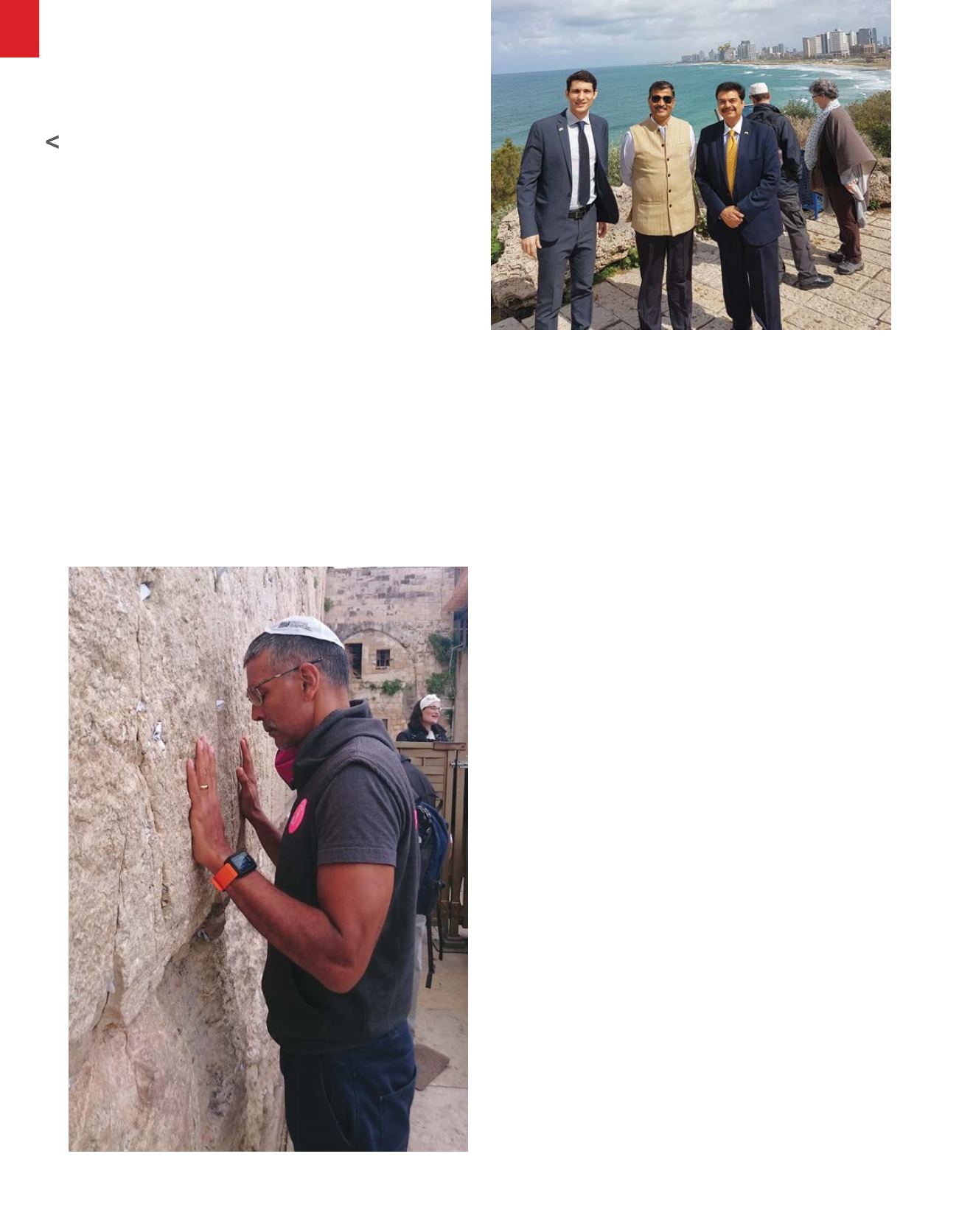 104
>
Travel & Tourism
>
Marketing Israel
Israel-India
> Business Guide >
2017
Milind Soman - model, Bollywood actor and fitness
ambassador - recently visited Israel to participate
in the annual Winner Jerusalem Marathon, in
which he ran the half marathon. Even though his
visit was brief, he enjoyed his visit to the Old City
of Jerusalem and the Dead Sea
Fitness Ambassador and Actor Milind Soman at theWesternWall in Jerusalem
The office also conducts regular training sessions for tour operators
and travel agents around the country to ensure that knowledge
about Israel as a destination is available and where any queries can
be addressed immediately.
Familiarisation trips,represented by both travel trade andmainstream
media, are a valuable activity that have assisted in changing the
perception of Israel as a pilgrimage and historical destination,
highlighting different themes including luxury travel, adventure
activities,women-friendly and food centric trips,to name a few.Some
of the top newspapers and magazines as well as travel publications
have featured Israel,one citing it as a destination"…with its myriad
offerings such as unspoiled nature, exciting cities, rich heritage,
intriguing architecture and unbelievably delicious cuisine, has a
little something for everyone." - (Rama Ahuja – 'Millionaire Asia').
Mr. Ashwani Lohan, CMD Air India, flanked by Mr. Hassan Madah and
Mr. Pankaj Srivastava, overlooking Jaffa Coast
From Bollywood to Tel Aviv and Back
TheMinistry of Tourismalso coordinated Bollywood actress and fashion
icon Sonam Kapoor's visit, who travelled to Israel for a photoshoot
and spent a few days visiting attractions in the Old City of Jerusalem,
Tel Aviv,and the Dead Sea Region.Milind Soman - model,Bollywood
actor and fitness ambassador - recently visited Israel to participate
in the annual Winner JerusalemMarathon, in which he ran the half
marathon.Even though his visit was brief,he enjoyed his visit to the
Old City of Jerusalem and the Dead Sea.
With support from the India Office, television production crews
have visited Israel and have aired featured episodes - a 30-minute
segment was aired on India Today,four episodes on Israel are slated
for release on TravelXP and there is significant interest from the
Bollywood industry to film in Israel.
In 2016,the Israeli Ministry of Tourism invested INR 13CR (approximately
USD 1.9M) in an advertising campaign on television,digital platforms
and in print – in daily newspapers and magazines, showcasing the
tourist attractions in Israel.The campaignwas live for a total of 4months
and resulted in a number of queries about Israel as a destination
from both the travel industry and travellers alike. In 2017, the India
Office is planning to invest in two campaigns, targeting the Indian
summer travel period in mid-March and another in September.
The India Office is also investing in joint marketing ventures with
different tour operators in India to utilise alternative mediums of
promoting the destination as well.
Air India will fly between India and Israel
Mr.Ashwani Lohan, Chairman & Managing Director of Air India, and
Mr.Pankaj Srivastava,Commercial Director,visited Israel inMarch 2017
accompanied by Mr.Hassan Madah,Director of the Israel Ministry of
TourismOffice in India,and announced their intention to start flights
between India and Israel effective May 2017. With the addition of
the national carrier connecting the two countries, the Ministry of
Tourism is anticipating an exponential increase in the number of
travellers from India to Israel.
The response received from these efforts has contributed to a 13%
increase in tourism from India to Israel in 2016, setting a record for
the highest number of tourist arrivals from India in a year - 44,672.The
momentumhas continued into 2017:in January and February of 2017
there has been an increase of 16% over the same period last year.