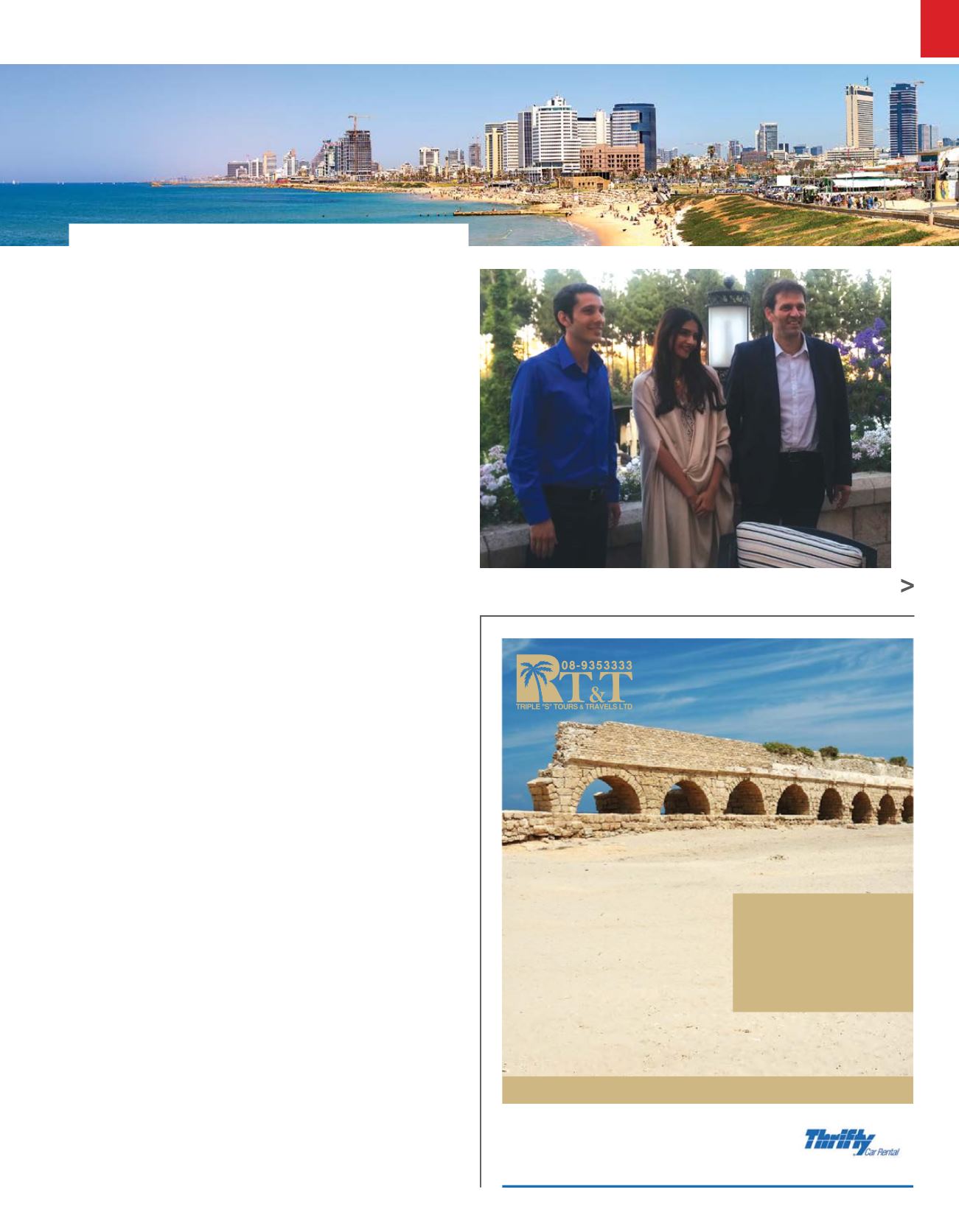 ·
Expertly-planned tours to Israel
·
Agricultural Tours
·
Leisure
·
Pilgrimage
·
Active Holidays
·
Heritage Tours
·
Meetings, Incentives, Conferences
·
Family Holidays
TRIPLE 'S' TOURS & TRAVELS
All travel services under 1 roof:
Contact us:
RT&T TRIPLE 'S' TOURS & TRAVELS Ltd.
96 Herzl Street, Rehovot 76548, Israel
Email:
rttravel@netvision.net.il
Phone: +972- 8-9353333, Fax: +972-8-9356000, Website:
www.rttravel.co.il
We never take the Indian traveler for granted
We are the sole NRI - owned and operated
approved incoming tour operator in Israel
·
Multi-lingual staff
·
VIP Meet &Assist
·
Group Visa Processing for
Israel, Jordan and Egypt
·
Self-Drive Car Hire
·
Chauffeur-Driven Vehicles
Marketing Israel
>
Travel & Tourism
>
103
T
ravellers from India are beginning to visit and explore Israel
as a destination,as the profile of these travellers has changed
in the last few years.With over 20 million outbound travellers
from the Indian subcontinent, there is great potential to increase
the number of leisure visitors to Israel.
The Israel Ministry of Tourism opened their India office in Mumbai
in 2015. Since then, it has been extremely active in increasing
awareness in the market about Israel as a leisure destination,
while still maintaining its efforts to promote the Holy Land as a
destination for pilgrimage.
The Ministry's India office participates in different tourism fairs
across India,including the Gypsy Travel Fair,IITT,SATTE and OTM to
name a few;and has also initiated the hosting of conventions like
TAFI (Travel Agents Federation of India) in Jerusalem in 2015 that
helped introduce Israel as a destination to about 250 members
of the Indian Travel Trade Industry and the Media.
Introducing Israel
as a leisure
destination for
Indians
In 2016, the Israeli Ministry of Tourism invested
INR 13CR (approximately USD 1.9M) in an
advertising campaign on television, digital
platforms and in print – in daily newspapers
and magazines, showcasing the tourist
attractions in Israel
Sustained Marketing Efforts Have
Seen a 13% Annual Increase in
Visitors from India to Israel
Training sessions for tour operators and agents
To strengthen travel relations between both nations, the India
Office also conducts Road Shows inmajor Tier 1 and 2 cities across
India to highlight aspects of tourism in Israel. Some Road Shows
were attended by Destination Management Companies (DMCs)
from Israel who interacted with the Indian Travel Trade fraternity.
In 2017, the India Office has scheduled 5 Road Shows with the
travel trade industry including 2 Road Shows with participation
by Israeli DMCs.
Bollywood Actress Sonam Kapoor flanked by Mr. Hassan Madah, Head, Israel
Tourism India Office andMr.Amir Halevi,Director General,Israel Ministry ofTourism
photo by: © Sergey02, Dreamstime.com
Tel-Aviv beach