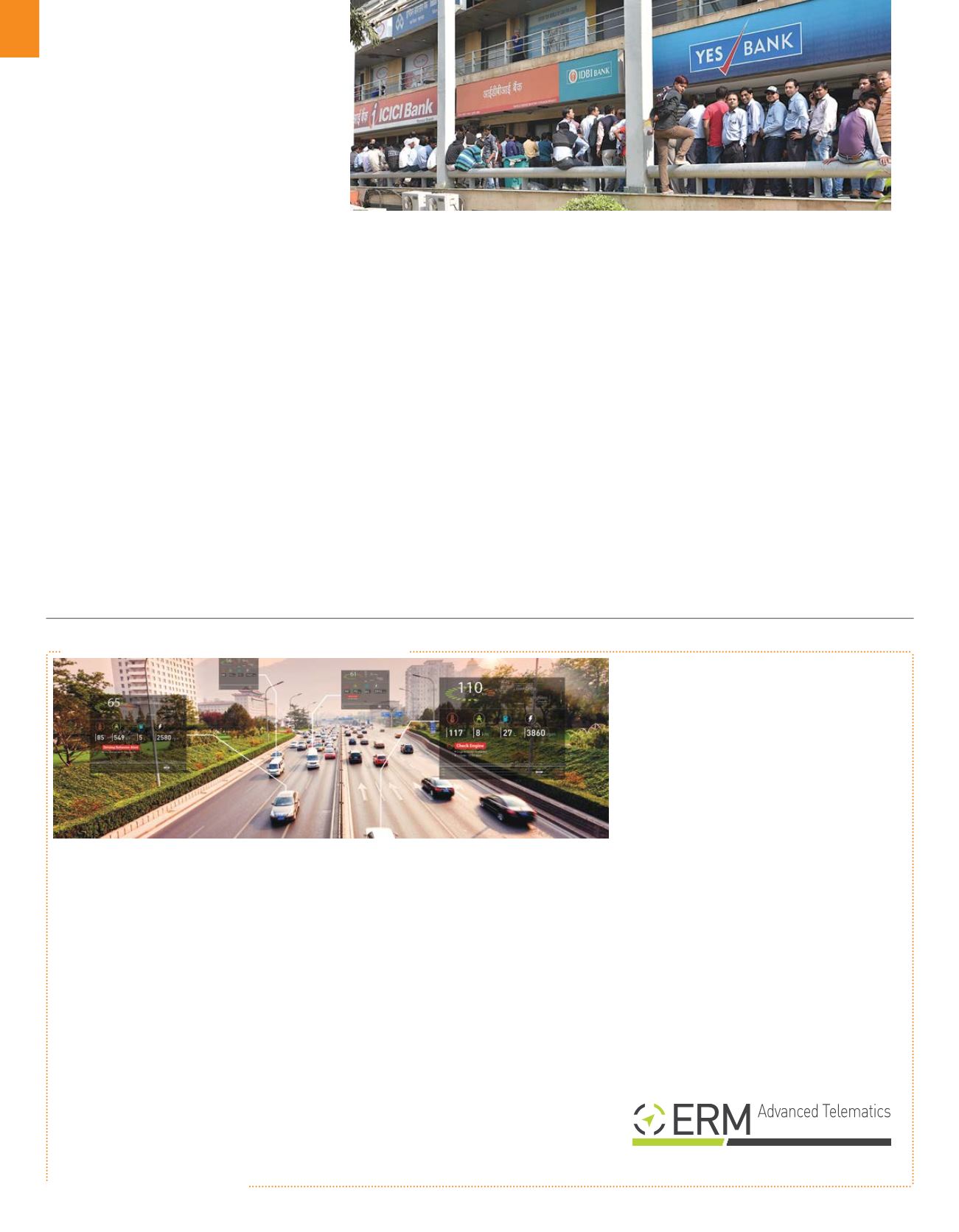 Sensing vehicle
, All the way
098
> Services >
Banking in India
Israel-India
> Business Guide >
2017
Services >
ERM - Fleet Management / Telematics
ERM:Design,Develop andManufacture innovative
fleet management and vehicle security solutions
I
f you are aTelematics or a Fleet Management
service provider, this will interest you:
The ERMStory - Flexibility and Control!
While other telematics hardware vendors
offer shelf solutions, ERM offer highly
flexible and professional solutions.
ERM offers:
•
Extremely flexible protocol with plenty of
configurable parameters that can support
any platform or service requirements
•
Flexible and modular hardware-based
solutions
•
Highly configurable alerts, notifications
and rules
•
Full design,development andmanufacturing
service,to support any new service required
by our partners
ERM Advanced Telematics offers solutions
that allow you to fully define and control
the services that you offer to your customers
and differentiate yourself from competitors
while Expanding Your Business!
Established in 1985,Israel-based ERM focuses on
the design,development andmanufacturing
of innovative vehicle security and GPS/GSM
tracking and telematics solutions.
ERMoffers a different and better way tomanage
fleets and provide telematics services - easy to
use, simple to understand and fast to implement.
Our solutions are based on a wide variety and
highly modular hardware products for safety
and telematics applications,enabling greater
protection and better management over
vehicles and valuable assets,while lowering
operational costs for both the service provider
and its customers.
With approximately 1.5million active telematics
devices installed and in operations inmore than
55 countries, ERM has established itself as a
global leader in the fleet management industry.
ERMhas a growing presence in India,marketing,
sales and support teams to support our local
partners.
info@ermtelematics.com | +
9
11141345553
E
xpanding reach, improving credit-
wor thiness, introducing new
technology – India's banking sector
expected to improve
India's banking sector is sufficiently capitalized
and well-regulated.Credit,market and liquidity
risk studies suggest that Indian banks have
withstood global downturns well. Indian
banking has witnessed the roll out of innovative
banking models like payments and small
finance banks.
Market Size
Public-sector banks control nearly 80 percent
of the market,thereby leaving comparatively
much smaller shares for its private peers.Banks
are also encouraging their customers tomanage
their finances usingmobile phones.Standard
Suf ficiently
Capitalized and
Well-Regulated
& Poor's estimates that credit growth in India's
banking sector would improve to 11-13%
in FY17 from less than 10 per cent in the
second half of FY14.
Government Initiatives
•
The Reserve Bank of India (RBI) has released the
Vision 2018 document,aimed at encouraging
greater use of electronic payments by all
sections of society by bringing down paper-
based transactions, increasing the usage of
digital channels,and boosting the customer
base for mobile banking.
•
To reduce the burden of loan repayment
on farmers, a provision of $ 2.2 billion has
been made in the Union Budget 2016-17
towards interest subvention.
•
The RBI plans to soon come out with
guidelines, such as common risk-based
know-your-customer (KYC) norms,to reinforce
protection for consumers.A large number of
Indians have now been financially included
post the government's massive drive to open
a bank account for each household.
Road Ahead
Enhanced spending on infrastructure,speedy
implementation of projects and continuation
of reforms are expected to provide impetus
to growth.Advancements in technology have
brought the mobile and Internet banking
services to the fore.Many banks are exploring
the option to launch contact-less credit and
debit cards in the market shortly allowing
customers to transact without having to
insert or swipe.
Source:IBEF,Dept.of Commerce & Industry,Govt.
of India
photo by: © Singhlens, Dreamstime.com