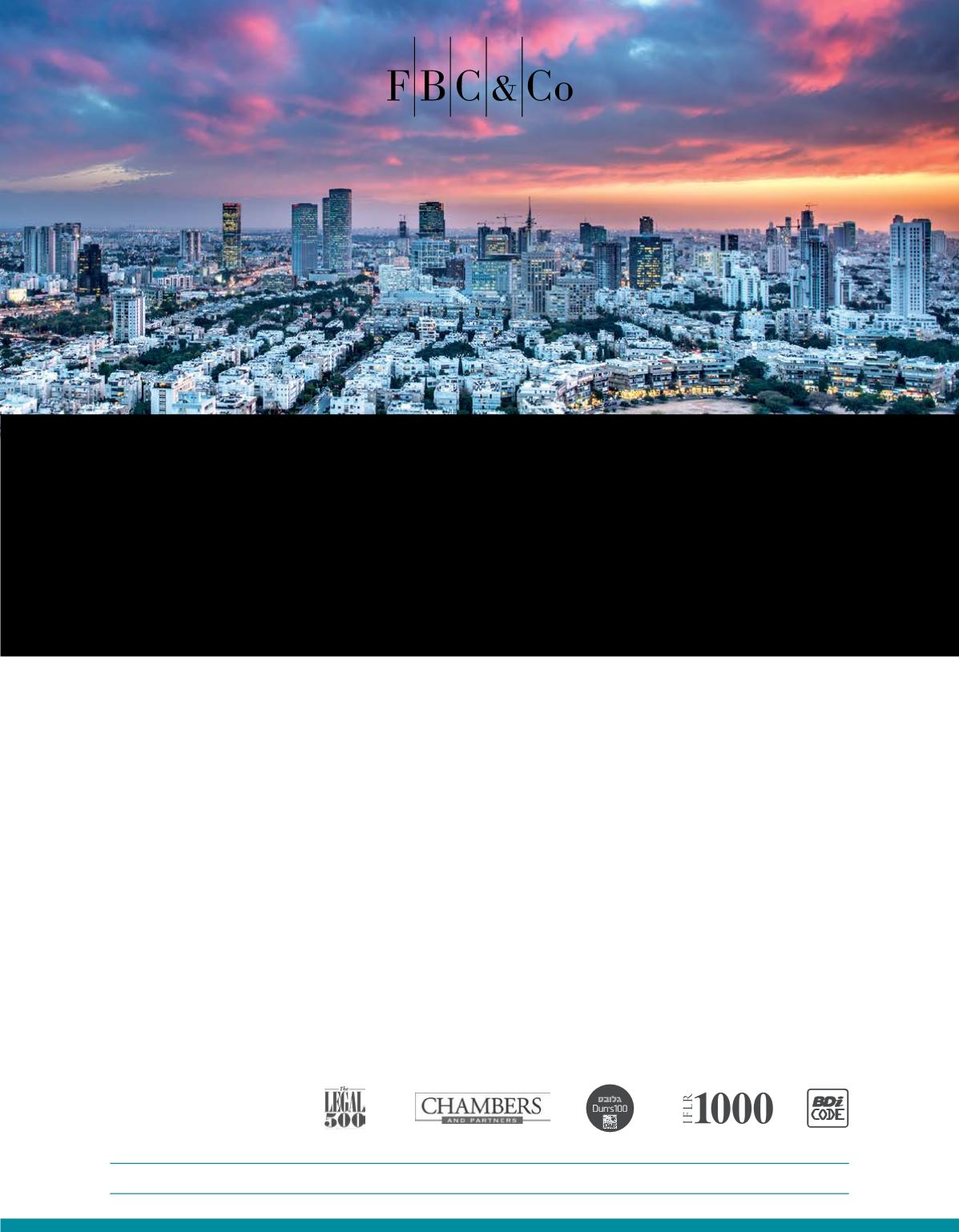 Arbitration & Mediation | Aviation, Maritime & Tourism | Banking & Finance | Capital Markets | Class Actions & Derivative
Suits | Commercial | Competition & Antitrust | Cyber & Information Technologies | Environmental Protection | High-Tech &
Technology | Insolvency & Restructuring | Intellectual Property | Investment Funds | Labor Relations | Life Sciences &
Healthcare | Liquidation & Receivership | Litigation | Mergers & Acquisitions | Planning & Zoning | Private Asset Management |
Project Finance & Energy | Real Estate | Regulatory | Sports Law | Tax | Telecom & Media | Urban Renewal | White Collar
Where Clients Make Partners
Fischer Behar Chen Well Orion & Co (FBC), founded in 1958, is one of Israel's premier and largest full service law
firms. FBC acts for prominent multinational and Israeli clients and offers professional excellence and personal
attention across the spectrum of multidisciplinary legal services. The firm's attorneys pride themselves, first and
foremost, on their business legal acumen and ability to bring matters to closure, integrating commercial sensitivities
of attorneys experienced in handling large-scale matters with in-depth knowledge of first class practitioners.
The comprehensive and high quality legal services that the firm provides is based on vast experience and deep
familiarity with the Israeli economy and the local and international business environment, combined with a
pragmatic and efficient approach to the legal profession. The firm is highly reputed in creatively handling innovative
and challenging legal issues, and champions the values of professional excellence and dedication to clients. The firm
represents local and international clients in a wide variety of business and industrial sectors (including: automotive;
aviation and aerospace; banking; communications; construction; energy; financial institutions; food and beverage;
gaming; government; infrastructure; insurance; investment funds; life sciences and healthcare; manufacturing;
media, entertainment and sports; professional services; real estate; retail; technology; transportation) and is
constantly involved in a wide range of matters at the heart of Israel's legal-economic agenda.
3 Daniel Frisch St., Tel Aviv
6473104
, Israel |
972.3.526.6901
|
marketing@fbclawyers.com | w
ww.fbclawyers.com
TOP RANKED BY :
פישר בכר חן וול אוריון ושות׳
Fischer Behar Chen Well Orion & Co